H. Rider Haggard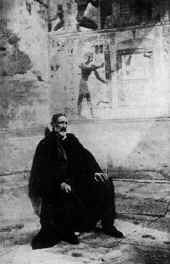 "My empire is of thye imagination"
She, 1887
(photo of H. Rider Haggard at Abydos, Egypt)
---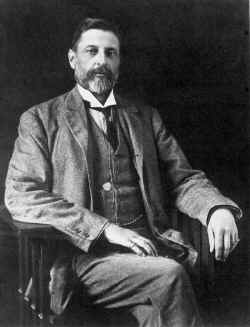 Henry Rider Haggard

Sir Henry Rider Haggard was born in 1856 in West Bradenham Hall, Norfolk,, as the eighth child (and sixth son) of William Haggard, a barrister and a country squire, and Ella (Doventon) Haggard, an amateur writer. Haggard was educated at a London day-school, privately, and Ipswich Grammar School. He spend six years while still a young man in South Africa. After failing the army entrance, Haggard went in 1875 to Natal as a secretary to Sir Henry Bulwer, Governor of Natal colony. In 1877 he joined the staff of the special commissioner. Next year he became Master and Registrar of the High Court in the Transvaal.

During his years in Africa Haggard got acquainted with the Zulu culture. He had an affair with an African woman, a profound relationship, which influenced his portrayal of women and subsequent psychoanalytic interpretations of Haggard's novels. Among them is Carl Jung, who used the novel She (1887) as an example of anima.

On publication of She in 1887, H. Rider Haggard predicted that this spellbinding novel "is what I shall be remembered by." The ingredients that make She an irresistible read-a dangerous quest in underground tombs, ancient Egyptian relics, a beautiful, ruthless Queen who possesses magical powers, and a narrow escape by the narrator from her clutches-have become prototypes for today's adventure books and films, from Raiders of the Lost Ark to Jurassic Park. More than just great escape fiction, She is great literature. It contains the embodiment of one of the most formidable and ambivalent characters of Western mythology: a female who is both monstrous and beautiful-and without a doubt, far deadlier than any male!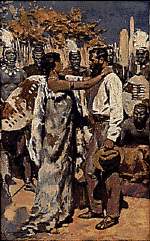 There is also his wondrous saga of three novels in which the evil, but hapless Zulu girl rises from nothing to bend rulers to her will, embroil them in quarrels and with her beauty engineer murder, treason and betrayal. She is -- both living and dead -- the tool by which the wizard Zikali (The thing-that-should-never-have-been-born) brings about the downfall of the royal house of Chaka. Marie (1912), Child of Storm (1913) and Finished (1917) are the three books, but the saga begins in Nada the Lily (1892) and continues in She and Allan (1921) and The Ivory Child (1916): the last being one of the best mystery romances ever written.
When Haggard returned to England, he married a Norfolk heiress, Mariana Louisa Margitson. They moved to Transvaal to Haggard's ostrich farm. When Transvaal had to be ceded to the Dutch, they went back to England, where Haggard studied law and was admitted to the bar in 1884. He had several daughters and one son who died as a child.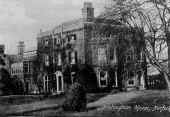 However, Haggard hardly practiced law, he had retired to a Norfolk country house and devoted himself into writing. He had earlier published a study of contemporary African history and some unsuccessful novels. According to a story, when R.L. Stevenson's Treasure Island appeared, Haggard did not think much of the book, and made a five-shilling bet that he could write better one. The outcome was King Solomon's Mines, a story of a group of treasure hunters searching legendary diamond mine in a lost land. The book became a huge bestseller and it has been in print ever since. Haggard repeated his success with three novels set in Africa - She, Jess and Allan Quatermain, all published in 1887. The books for which he achieved fame were his adventure novels of which he wrote a great number - thirty-four - whose subject matter was as as varied as their settings. His novels depict life and history in exotic locations such as Africa, Constantinople (now Istanbul), Iceland, Mexico and Ancient Egypt.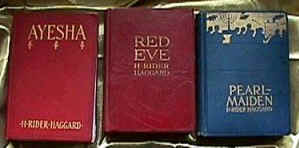 When the World Shook (1919) includes four star-charts that show the arrangement of heavens 250,000 years ago when Oro the Atlantean went into suspended animation, compared to what he charted upon awakening in the Victorian world. This is an archly fantastic tale of spirit travel, reincarnation, powers, teleportation, subterranean city, elixir of life -- and having considerable mythic depth as well. In The Ancient Allan (1920) - the direct sequel to The Ivory Child - Allan and Lady Ragnall get stoned on a smokable herb and begin experience earlier incarnations in Babylon and Egypt. Morning Star, a supernatural romance of ancient Egypt incorporates such themes as functioning astrology, weird fate, doll magic, sorcerer vs. sorcerer, spirit travel, incarnate god Amen, and other strange content. In the occult historical Red Eve (1911), the Black Plague is a personified presence with many magic powers. During the six months or so of writing this romantically disturbing horror story, Rider was spending a great amount of time with his "first love," Lilly, at the time dying of syphilis -- hence Red Eve was inspired by an aching, tragic affection.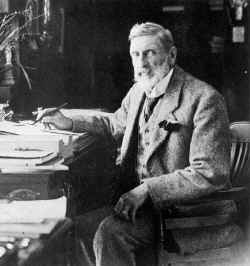 In 1895 Haggard stood unsuccessfully for parliament for East Norfolk, and between the years 1912 and 1917 he traveled extensively as a member of the Dominions Royal Commission. Haggard was an expert on agricultural and social conditions in England and on colonial migration. Haggard was knighted in 1912 and in 1919 he was created Knight Commander of the British Empire. Haggard died in London, on May 14, 1925.
Secrets of Haggard's private life - although married to another, he lived for years close to the woman he had always loved - have revealed that behind the mask of a respected Victorian gentleman was a more complex personality than generally has been known.
His autobiography, The Days of My Life was published in 1926, a year after his death.
---
Wisdom's Daughter
"In that book is my philosophy...the Eternal War between Flesh and Spirit, the Eternal loneliness and Search for Unity"
- Haggard to Rudyard Kipling, 1923, on his book Wisdom's Daughter
The narrator of She is Ludwig Horace Holly. The story depicts an adventurer, Leo Vincey, who receives a mysterious legacy from his father. He goes to Africa to search the truth behind the death of an ancestor, Kallikrates. He was an Egyptian priest slain by an ancient sorceress She-Who-Must-Be Obeyed, queen Ayesha, a 2000-year-old ruler of the Lost World of Kôr. With his friends Leo travels through dangerous regions and reaches catacombs of the Kingdom of Kôr. There they encounter She, the white Queen of the Amahagger people. The story was followed by two sequels, Ayesha (1905), in which Haggard asked, "Who and what was Ayesha, nay - what is Ayesha?" and Wisdom's Daughter (1923). He also paired his greatest characters She and Allan Quatermain together in She and Allan (1921).

"There are some events of which each circumstance and surrounding detail seems to be graven on the memory in such fashion that we cannot forget it, and so it is with the scene that I am about to describe. It rises as clearly before my mind at this moment as thought it had happened but yesterday."
-She
"I could clearly distinguish, however, that the swathed mummy-like form before me was that of a tall and lovely woman, instinct with beauty in every part, and also with a certain snake-like grace which I had never seen anything to equal before."
-She
---
"Yet man dies not whilst the world, at once his mother and his monument, remains. His name is forgotten, indeed, but the breath he breathed yet stirs the pine-tops on the mountains, the sound of the words he spoke yet echoes on through space; the thoughts his brain gave birth to we have inherited today; his passions are our cause of life; the joys and sorrows that he felt are our familiar friends--the end from which he fled aghast will surely overtake us also!
Truly the universe is full of ghosts, not sheeted churchyard spectres, but the inextinguishable and immortal elements of life, which, having once been, can never die, though they blend and change and change again forever."
"Welcome, white men from the stars," he said; "this is a different sight from what your eyes gazed on by the light of last night's moon, but it is not so good a sight. Girls are pleasant, and were it not for such as these" (and he pointed round him) "we should none of us be here to- day; but men are better. Kisses and the tender words of women are sweet, but the sound of the clashing of men's spears, and the smell of men's blood, are sweeter far! Would ye have wives from among our people, white men? If so, choose the fairest here, and ye shall have them, as many as ye will;" and he paused for an answer.'

"No, I will make an exception, the East did interest me enormously. There it was, at Benares, that I came into touch with certain thinkers who opened my eyes to a great deal. They released some hidden spring in my nature which hitherto had always been striving to break through the crust of our conventions and inherited ideas. I know now that what I was seeking was nothing less than the Infinite."
"It may be asked how I came to know Jorsen. Well, in a strange way. Nearly thirty years ago a dreadful thing happened to me. I was married and, although still young, a person of some mark in literature. Indeed even now one or two of the books which I wrote are read and remembered, although it is supposed that their author has long left the world."

"More than thirty years ago two atoms of the eternal Energy sped forth from the heart of it which we call God, and incarnated themselves in the human shapes that were destined to hold them for a while, as vases hold perfumes, or goblets wine, or as sparks of everlasting radium inhabit the bowels of the rock."
"The autumn afternoon was fading into evening. It had been cloudy weather, but the clouds had softened and broken up. Now they were lost in slowly darkening blue. The sea was perfectly and utterly still. It seemed to sleep, but in its sleep it still waxed with the rising tide."
---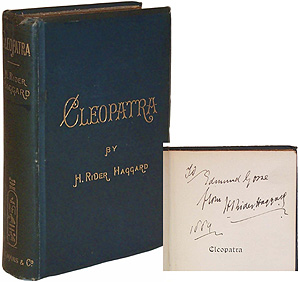 ($9500 Signed copy)
---
LINKS
Illustrations for Haggard's books
Hail, Mameena! Voice of the Wind, Child of the Storm (Haggard's Women)
A Meditation on Lost Race Literature with special reference to the works of H. Rider Haggard
"H. Rider Haggard's Empire of the Imagination" (on the novel, She)
Short Selections/Synopses of Novels with Links to the Novels On-line
An Annotated Bibliography of H. Rider Haggard's Fantasies (a guide for collectors)
H. Rider Haggard Books On-line
The Rider Haggard Appreciation Society exists to provide a focal point for fans of Haggard by providing regular newsletters, occasional meetings and the provision of books for those who cannot locate certain titles.
Books for Sale by Rider Haggard
---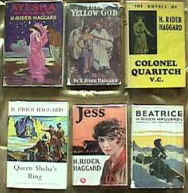 BIBLIOGRAPHY
Cetywayo And His White Neighbours (1882)
Dawn (1884)
The Witch's Head (1885)
King Solomon's Mines (1885)
Allan Quatermain (1887)
She (1887)
Jess (1887)
A Tale Of Three Lions (1887)
Mr. Meeson's Will (1888)
Maiwa's Revenge (1888)
My Fellow Labourer And The Wreck Of The Copeland (1888)
Colonel Quaritch, VC (1888)
Cleopatra (1889)
Allan's Wife (1889)
Beatrice (1890)
The World's Desire (1890) (with Andrew Lang)
Eric Brighteyes (1891)
Nada The Lily (1892)
Montezuma's Daughter (1893)
The People Of The Mist (1894)
Joan Haste (1895)
Heart Of The World (1895)
Church And State (1895)
The Wizard (1896)
Dr. Therne (1898)
Swallow (1898)
A Farmer's Year (1899)
The Last Boer War (1899)
The Spring Of Lion (1899)
Black Heart And White Heart (1900)
The New South Africa (1900)
A Winter Pilgrimage (1901)
Lysbeth (1901)
Rural England (1902)
The Pearl Maiden (1903)
Stella Fregelius (1904)
The Brethren (1904)
Ayesha: The Return of She (1905)
A Gardner's Year (1905)
A Report Of Salvation Army Colonies (1905)
The Way Of The Spirit (1906)
Benita (1906)
Fair Margaret (1907)
The Ghost Kings (1908)
The Yellow God (1908)
The Lady Of Blossholme (1909)
Queen Sheba's Ring (1910)
Regeneration (1910)
Morning Star (1910)
Red Eve (1911)
The Mahatma And The Hare (1911)
Rural Denmark (1911)
Marie (1912)
Child Of Storm (1913)
The Wanderer's Necklace (1914)
A Call To Arms (1914)
The Holy Flower (1915)
After The War (1916)
The Ivory Child (1916)
Finished (1917)
Love Eternal (1918)
Moon Of Israel (1918)
When The World Shook (1919)
The Ancient Allan (1920)
Smith And The Pharaohs (1920)
She And Allan (1921)
The Virgin Of The Sun (1922)
Wisdom's Daughter (1923)
Heu-Heu (1924)
Queen Of The Dawn (1925)
The Days Of My Life (1926) (autobiography)
Treasure Of The Lake (1926)
Allan And The Ice Gods (1927)
Mary Of Marion Isle (1929)
Belshazzar (1930)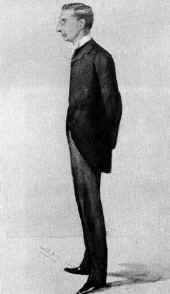 Haggard as drawn in Vanity Fair after the publication of She in 1887.

Link to Another Bibliography