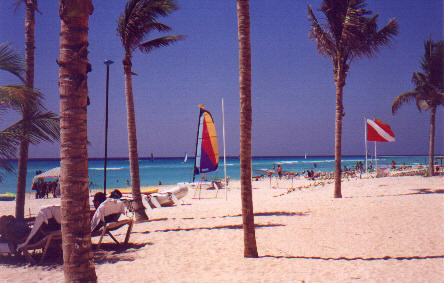 My Trip to Mexico
by Rita Karl
Our trip was for five days to Playa del Carmen, Chichen Itza and Cozumel! My first time to the Yucatan. We left Houston at the crack of dawn on our charter flight. We arrived to glorious weather, the air was like velvet. Took a bus from Cancun to Playa del Carmen on the coast. The tour guides fed us Coronas and told us about the places we were to see and the tours we could take. We decided on a flight to Chichen Itza and a snorkeling trip to Cozumel.
Immediately upon arrival we were upgraded to a five star hotel next store to the one we were supposed to stay at. The Royal Hideaway was magnificent! Such splendor! Playa del Carmen is a tiny Mexican town that is a port to Cozumel. We could see the ferry come and go - but the resort area is a few miles from town (a $3 cab ride). Many resorts and condos line the bouganvillia covered streets. It was April and everything was in bloom, the weather beautiful and the ocean incredibly clear and blue.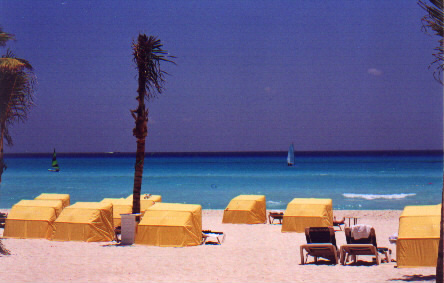 We had 3 large pools and a small relaxing pool by each villa. Restaurants included an Italian, a Thai, a Mexican and a Snack Bar at the beach. The Mexican restaurant was right on the water! We immediately moved in and had pina coladas by the beach.
Lunch was shrimp tostadas and calamari! The sand is white and the water crytal clear with lots of luscious waves. It was cool and refreshing and the beach boys wonderful. Our room was gorgeous with a tiled bathroom and a lovely bedroom and balcony. Flowers and lizards everywhere! We took a nap...