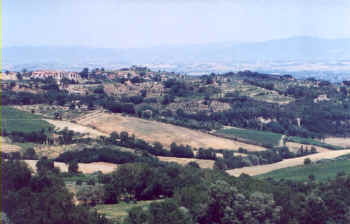 Italy Adventure
by Rita Karl
(Copyright 2002)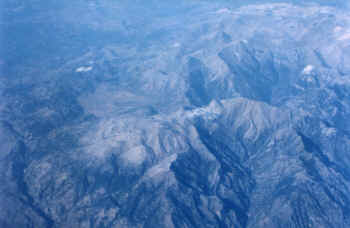 The flight to Rome is fast and easy, nothing compared to the hair raising missed landings at Sharm el Sheikh from last week that nearly turned all my hair gray! Ailitalia serves real food and wine and I arrived unscathed. A long four hour car ride to the house in Tuscany was greeted by a houseful of amazing smells from Michael's cooking. Michael and Marianne and their 11 year old daughter Francesca were there to greet us. Dad, Joanne and I would have lots of adventures with them in the next week.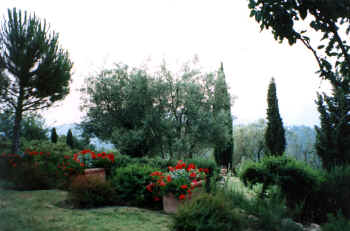 Michael is a wonderful chef and loves it. The week was full of great food. Sausages, pork chops, eggplant marinara glistening with fresh cheese, a white bean salad, fresh bread and lots of Tuscan red wine made our evening complete. Even at night I could see this rustic farmhouse villa in the green mountains with its private pool was going to be a very special retreat.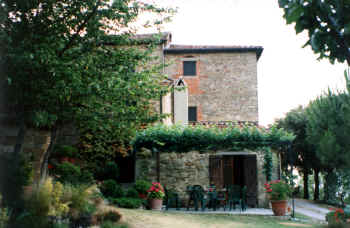 After dinner and coffee we adjourned to the veranda under the grape arbor and listened to the night sounds of frogs. A phantasm of a white dog flitted in the night - a homeless tamp who loved to chew garbage, items left outside and bathing suits left to dry. I predicted a satellite and sure enough there was one. Maybe it was Hubble or Space Station. Later I was treated to a shooting star, which of course I wished on with all my might.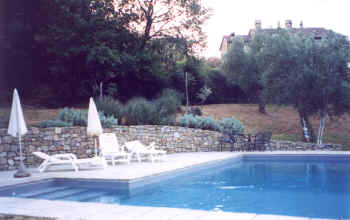 Each day I awoke early to the sounds of birds and bees. The smells of Tuscany are too complex to be noted in a journal but included roses, geraniums, thyme, oregano, rosemary and lavender. The day was overcast and rain was on the way. My prayers had been answered. Our first trip was to Venice or Venezia.
We all piled in the VW station wagon with Michael crammed in the back with the luggage. We were on a roll and cruising through the farmlands full of crops of tobacco, corn, sunflowers and vegetable gardens. The mountains gave way to meadows and soon we were in Venice. We got lost finding the parking area and passed some hookers in the bad part of town. Just as we arrived in the gigantic parking lot the thunder and lightening began.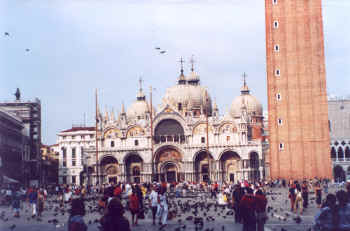 We were forced to buy rain ponchos and ran through the downpour to the public boat. Remember if you go not to listen to the men who look like parking attendants and try to get you to take a 'much faster small boat' to town because it is a HUGE ripoff. They try to tell you that the public boat takes an hour and a half and costs $50, neither of which are true. A family of three costs 7 Euros (about $7) and only takes 20 minutes to get into town. They have public transportation (all via boats) down pat.
Through the drenching rain Venice emerged from the mist, more lovely, medieval and ephemeral than you could imagine from the movies. Our hotel was tiny but right on the water near the grand canal and within walking distance to San Marco Square and right across from St. George's Church.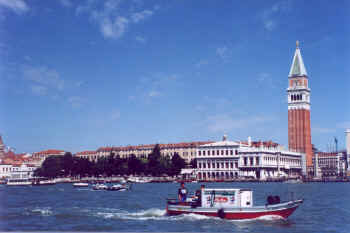 After lugging our bags up 4 flights we all emerged starving! We tried to get into the restaurant that was part of the hotel but because of the rain it was packed and we couldn't get a table. Some angry words were exchanged. Michael agreed they would probably spit in our food anyway and we threw on the ponchos and ventured out into the main drag along the water in search of Italian food. We found a mediocre restaurant for tourists on a crowded side street. Shops filled with carnival masks, glassware, jewelry and souvenirs lined the street. We ate lunch, I had mussels and clams marinara and pasta alfredo, and drank wine and felt better. And then the sun came out.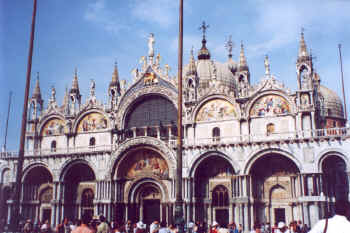 We spent the afternoon wandering through small streets and over canals, taking photos and purchasing gifts for friends. I bought a small red glass heart, a scarf in velvet, and a magnificent blue iridescent lace mask with silver highlights.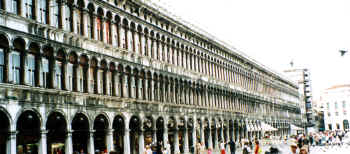 We entered San Marco square and of course were amazed at the tower, palace, church and millions of pigeons! The sidewalk cafes were full of musicians who played romantic songs…there were lovely cameos in all the jewelry windows. I bought a journal from one of the paper shops renowned in Italy, I was to see many of these stores some combined with bookbinding shops through out my journey.
Canals and gondoliers, hunky Italian studs, all the latest fashions and medieval architecture makes Venice a one of a kind city. Only 60,000 people live here now and amazingly with only 20 plumbers. So says the guidebook! The tower in San Marco Square crumbled to the ground in 900AD and was rebuilt soon after…I still want to climb to the top. The light in the square changed to blues and purples after 6pm. The musicians played The Girl from Ipanima and I got a little homesick. It brought back too many memories of Paris and France then.
We regrouped for dinner down another little alleyway. Our waiter was Egyptian and I spoke some Arabic, it was pretty cool. Had mixed cold fish antipasto and pizza with anchovies. And a heavenly red wine. Went to bed early.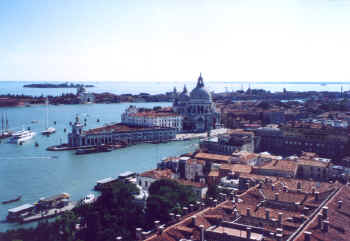 The next day I woke up homesick for Egypt. Later in the day I turned on the tv and enjoyed watching a French show about archeological excavations in Egypt. That helped a little. Our second day was magnificent and sunny and cool. We went to the St. George Church first thing, took the ferryboat over and went up to the top of the tower to see the magnificent panorama of Venice. What a view. It could have been 1850 for all you can tell from that height. Full of churches and villas and tiny streets, small shops and flower boxes and canals. Boats fill the large bay, every kind of boat, tour boats and police boats, sailboats and cruise ships, dinghies and speed boats.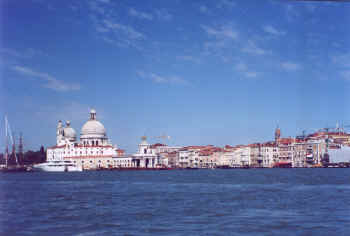 We went back to the other side of the bay and wandered through the city and found another small church of St. George. I look forward to sharing the video with family and friends, I think it will be very good. I managed to video in a few places before I was told no video and these magnificent paintings of St. George fighting the dragon were so detailed. Found a lovely old paper shop that sold prints and Dad got me a lovely book of Venetian architectural drawings from the 1800s. Bought a leather bound journal and some Christmas cards.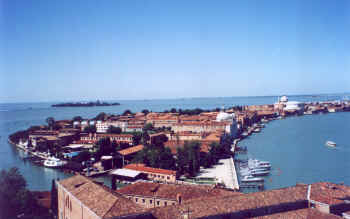 Picked up a leather backpack in the leather shop where everyone got something. Dad got a belt, Joanne a bag, Michael a bag for a friend. The leather work in Italy is of course some of the best in the world. We had lunch on the canal in a wonderful outdoor restaurant. I had asparagus soup and linguine with salmon and cream.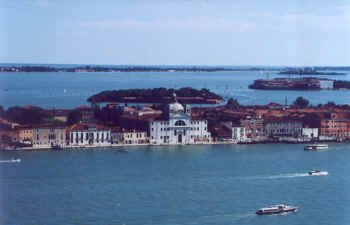 We wandered back to San Marco Square and Marianne and I went up the Tower (what an amazing panorama as well!), into the church and saw the solid gold and jewel encrusted backdrop to the altar, and then to the Civic Museum. We saw some of the huge platform shoes of the Venetians, lots of statues, crafts and costumes. Found a lovely old style ring with a setting reminiscent of the opal ring I have from Paris. It had a light pink stone and it quite Venetian. For dinner we found another wonderful little restaurant, I bought everyone dinner, I had gnocchi with gorgonzola sauce and steak in port wine.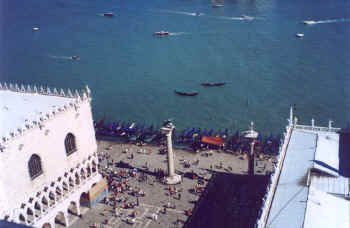 A lovely trip. Who couldn't love Venice?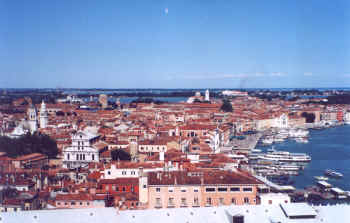 Rolf and Joanne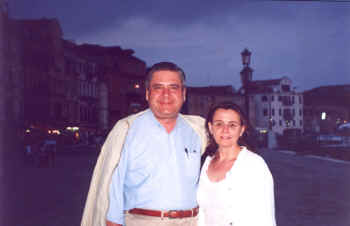 St. George's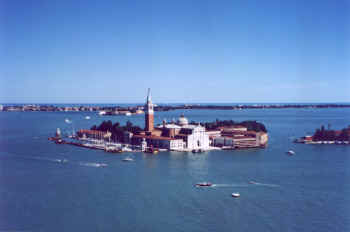 The Gang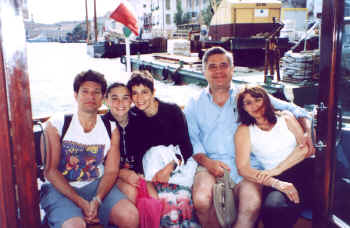 The next day we were up early and back to Tuscany. We made it back in time for some more drizzling rain and it was lovely. We had French Martinis like only Michael can make. For dinner Michael made pasta with proscuitto and I made a tomato salad with balsamic vinegar and garlic. Well, everything we have made or eaten has had beaucoup garlic in it!